Biography: Dr. Ruth Warner Towne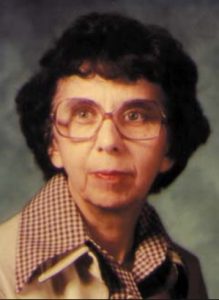 Dr. Ruth Warner Towne was a longtime faculty member and administrator at Truman State University.  A 1939 graduate of what is now Truman State University, Dr. Towne served as a member of the history faculty for over 40 years, and was Dean of Graduate Studies from 1983-1988. She was an advisor to the Delta Zeta sorority for many years and was also an active member of the First United Methodist Church in Kirksville.
Dr. Towne loved the University and dedicated her life to teaching and guiding its students.
In 1992, she presented the University with a gift of four bronze bells and a carillon for the Pickler Memorial Library clock tower in memory of her parents. In 1994, she was honored by Truman State University as Alumna of the Year. On April 4, just one day after her passing, Truman again recognized her as co-recipient of the first President's Leadership Award.
Dr. Towne officially retired in 1988 with the titles Professor Emeritus of History and Dean Emeritus of Graduate Studies and was honored by the Division of Social Science with the establishment of the Kohlenberg/Towne Lectureship. She continued to teach part-time until 1993 but pursued scholarly endeavors and remained active at the University on a daily basis until the time of her death on April 3, 1998.
With her generous gift for this museum, Dr. Towne asked for a focus on American history and in particular the history of northeast Missouri. The Dr. Ruth Warner Towne Museum is designed to serve as an educational resource for the University, for the surrounding community, and for visitors to the University.